January Greek Tin Cover (#31)
A new series of small monthly designs starts with this tin cover. Use any combination of colors that you like or stick to the tradition red and black that we used. Finishing instructions as well as molds are included.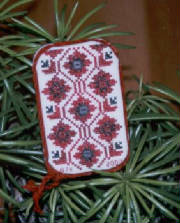 February Mermaid Tin Cover (#32)
Designed for a special friend who loves mermaids, this lady of the sea can be stitched in any colorcombination. We gave her a shell to keep her treasures in as well.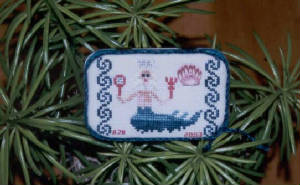 March Flowerpot Tin Cover (#33)
I chose colors that I love for this flowerpot. Feel free to pick those threads that appeal to you.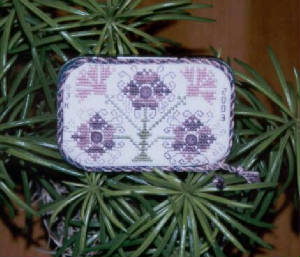 April Sewing Lady Tin Cover (#34)
My favorite tin cover so far. This started out as a fun project with some friends last summer and I modified her a little. Let this lady take care of your scissors, needles, threaders and other little accessoiries.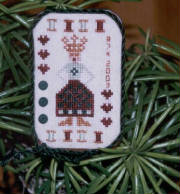 May Blue Tin Cover # 35
The fifth tin cover in the 2003 series, this one is stitched with two colors of Waterlilies on 32 count Country French Latte fabric.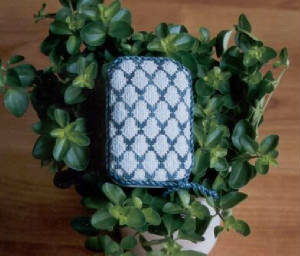 June Flowers Tin Cover #36
This filling pattern is also stitched with two colors of Waterlilies. The flowerpetals are done in satin stitches.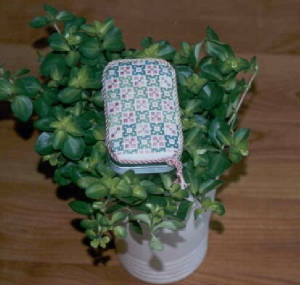 Garden Alphabet Sampler #43
A beautiful old alphabet combined with a pergola reminds me of warm summer evenings when I can take a walk in my parents' garden. The sampler is stitched with Gloriana silk threads and is done on 32 count Country French Cafe Mocha.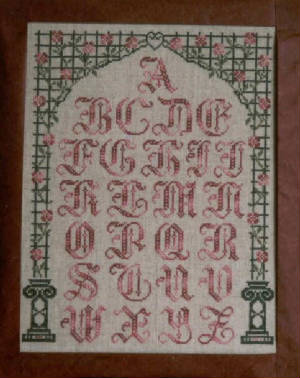 Tulips and Birds (#44)
Celebrating the arrival of spring, this sampler can be used in a number of ways. Why not stitch the centerpart for a box, or use the small boxes in the outer band for stitching smalls.